When:
November 21, 2017 @ 8:00 am – November 22, 2017 @ 4:30 pm
Asia/Bangkok Timezone
2017-11-21T08:00:00+07:00
2017-11-22T16:30:00+07:00
Where:
Souphanouvong University
Luang Prabang
Laos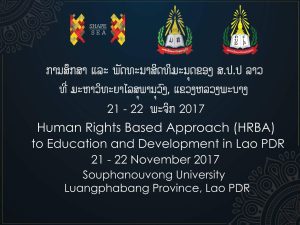 Observations on human rights education in Lao PDR, reflect the gap in the spread of human rights education in Lao PDR. While there has been exposure of human rights in the urban areas, it is not the same in the provinces, particularly in remote areas. For example, many universities are not learning and studying on human rights because there are lack of opportunities, lack of access and weak government interventions of advancing the HRBA to education and development in Lao PDR.
While the HRBA to education is necessary, it is equally critical to apply the same approach to development in the country. This is especially important for the Souphanouvong University, which is in Luangphabang province – a tourist destination. Development for tourism has raised issues and contributed to the violation of rights in the province. The National Seminar can thus contribute to them epistemology on human rights, problem-solving for education and development and knowledge dissemination.