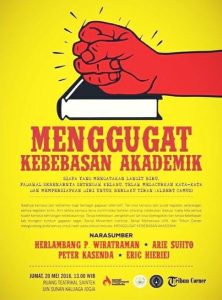 The Indonesian campus may be considered to no longer have academic freedom, and even in some cases is accused of being involved in human rights violations. There have been several threats to academic freedom in last five years in Indonesia. A discussion about the International People's Tribunal 1965 (IPT) planned for Gadjah Mada University (UGM) on 1st February 2016 was banned by faculty. The banning was due to threats to attack the discussion from hardliner groups. UGM is not alone as other universities in Indonesia have made similar decisions to ban academic meetings or discussions.
This research found three major reasons for increase in threats to academic freedom. First, the ban is connected to New Order's authoritarian legacy. Second is the continued stigmatization of communism, which is still perceived as an ideological conflict. Third is the use of the colonial code to silence criticism. Such threats are inseparable from the political and economic context of post authoritarian. After the fall of Suharto's New Order regime the campus did not necessarily changed dramatically into a more open and democratic venue. Ideologies based on threats and conflict that are linked to the communist and colonial legacy are still indoctrinated into the campus community, ranging from personal pressure to institutionalised in a campus organisation.
This research project addresses why academic freedom has been attacked in last few years, and to what extent legal protection could be applicable for liberating academia to express their opinion at campuses. Second, university has been controlled by corporate and capital owners. This research argues that it is still a long way to go before academic freedom is protected and guaranteed under Indonesian legal system. In reality, the deficit of academic freedom not only can be seen in the insensitivity towards issues of human rights, but now how academic institutions are sometimes directly involved in human rights violations.
Researcher: Dr. Herlambang P. Wiratraman, SH., MA.
Download/View:
Articles:
Conference Paper: