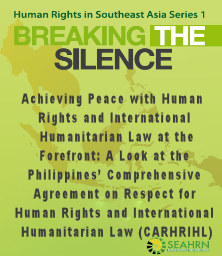 Two bloody world wars compelled nations to take stock of the human cost of war. Spurred by a genuine desire to curb, if not eliminate, collateral loss during wartime, the international community developed the concept of international humanitarian law (IHL), and has endeavored to incorporate its principles into constantly-evolving rules of engagement. Since its formal introduction at the end of the Second World War, States have attempted to practice IHL when engaging in armed conflict, whether international or domestic.
Rare is the domestic conflict in which the non-state aggressor is willing to be bound by the principles of IHL. But over 12 years ago in the Philippines, the government, locked in a protracted armed struggle with the insurgent National Democratic Front of the Philippines (NDFP), entered into the first agreement of its kind expressing a mutual commitment to respect, in the course of their operations, Human Rights and International Humanitarian Law. The CARHRIHL, or Comprehensive Agreement for the Respect of Human Rights and International Humanitarian Law, has endured, even as the armed conflict between the Philippine government and the NDFP continues.
In this discourse, the origins of the CARHRIHL is examined, its implications for both parties to the agreement and on the application of IHL on domestic conflicts. The first of several agreements toward a lasting, peaceful resolution to the communist insurgency, CARHRIHL is a landmark instrument in the application of IHL and could have paradigm-altering implications on creating peaceful solutions to drawn-out conflicts within nation states.
Note – a root from Human Rights in Southeast Asia: Series One. Breaking the Silence
Download/view
Author: Jaime Crispin Nuval Arroyo
Topics: ICCPR
Output: Human Rights In Southeast Asia Series