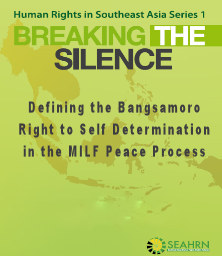 The Right to Self Determination (RSD) struggle of the Bangsamoro of Mindanao, Philippines has been internationalised since its first peace process in the 1970s with third party actors being involved. However, it is in the recent Government of the Republic of the Philippines and the Moro Islamic Liberation Front (GRP-MILF) peace process that the idea of RSD is well articulated in several ways. An example of this is in defining development in terms of RSD.
In a usual peace process, development is often introduced in the post-conflict phase soon after a peace agreement had been signed. However, in the context of the GRP-MILF Peace Talks, a new approach of starting reconstruction, rehabilitation, and development efforts in the conflict affected areas is being undertaken as part of a confidence building measure during the peace process itself. This new phase can be seen in the creation of the Bangsamoro Development Agency (BDA).
This research will present its findings on how the Bangsamoro articulate their concepts of development and Right to Self Determination. Mainly, it discusses the creation of the Bangsamoro Development Agency (BDA) and the worldview of MILF communities.
Note – a root from Human Rights in Southeast Asia: Series One. Breaking the Silence
Download/view
Author: Ayesah Abubakar and Kamarulzaman Askandar
Topics: ICCPR
Output: Human Rights In Southeast Asia Series