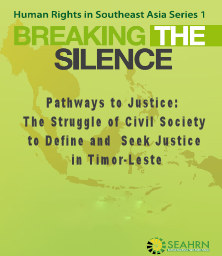 The paper explores justice-seeking by civil society actors in Timor-Leste within a historical context of unequal international and regional relations, the role of charismatic leaders within a nascent state, and the politicisation of impunity, amnesty and reconciliation. It examines the practical complexities of applying the concepts of transitional justice, as well as assessing the usefulness of such concepts as opposed to popular or retributive ones. While the framework of crimes against humanity and widespread human rights violations during the Indonesian occupation of Timor-Leste and in its aftermath is well known, the complex interplay of local and regional politics that drives or impeded the struggle for justice and standardisation of human rights has been less well examined.
Nine years on from independence, Timor-Leste is still fragile, having experienced recurrent cycles of violence and impunity. In fact, this hides some considerable progress in areas of human development since independence, including impact on poor people. However, notwithstanding such progress, the United Nations and other reports suggest that the country's security and justice institutions remain fragile. Such fragility will need increased political as well as technical capacity and pressure, but human rights activists suggest that currently the response of leaders to potentially troublesome constituencies, as with 'the petitioners' who were the trigger for the 2006 crisis, or the IDPs, tends to be paying money to get the problem rather than the root causes of the problem to go away.
Our paper is based on a research undertaken during Progressio's East Timor: Who Cares? campaign in 2009, the organisation's discussions around a follow-up institute for the Post-CAVR (the truth and reconciliation commission) Technical Secretariat, and interviews and discussions with civil society actors during 2010 and 2011. We conclude that a more sustained and egalitarian engagement between international and local actors will be necessary in effecting justice and suggest some practical steps in improving the capacity of local NGOs, as well as parliament in their oversight and lobbying roles. We also point to the need to engage far more with Indonesian institutions, including civil society.
Note – a root from Human Rights in Southeast Asia: Series One. Breaking the Silence
Download/view
Author: Steve Kibble, Tibor Van Staveren, Ed Hobey
Topic: ICCPR
Output: Human Rights in Southeast Asia Series