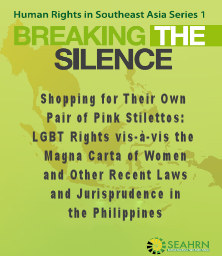 In the struggle for human rights recognition, the movements of women and lesbians, gays, bisexuals and transgenders (LGBT) are kindred spirits. Ideally, the developments in one movement benefit the other.
However, recent women's rights laws do not extend their protection to LGBTs. The disjuncture lies with the clear legal distinction secured by women as a group as against all other groups, including LGBTs. Like its kindred spirit, the LGBT rights movement should also establish its clear legal identity.
The need for a clear legal identity for the LGBT rights movement is emphasized by three recent Supreme Court decisions. Silverio vs Republic shows the strict application of the law in favor of only those who are expressly granted with statutory benefits. Republic vs Cagandahan carves out an exception not specifically stated in the law because of the presence of substantial distinctions. Finally, Ang Ladlad vs Comelec successfully established a distinct legal identity for LGBTs, albeit for a specific purpose only.
In the end, equal human rights treatment begins with the recognition of each group's substantial characteristics. The challenge for the LGBT rights movement, therefore, is to clearly establish itself as a distinct group under the law.
Note – a root from Human Rights in Southeast Asia: Series One. Breaking the Silence
Download/view
Author: Sherwin Dwight Ocampo Ebalo
Topics: ICCPR
Output: Human Rights In Southeast Asia Series