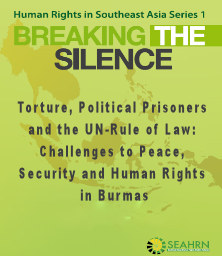 Despite the fact that torture constitutes one of the most brutal attacks on human dignity, and not withstanding the absolute prohibition of torture under any circumstances, almost no society is immune from torture. In many societies, it is practiced systematically. Burma is one such country. In addition, conditions of detention, in Burma, are appalling and arguably qualify as cruel, inhuman and degrading, amounting to torture. This paper explores the nature of torture in Burma's interrogation centers and prisons. Evidence suggests the practice of torture, in Burma, serves the purpose of extracting confessions and information; extracting money; as a punishment; and perhaps, most dangerously, of silencing dissent. The victims, in Burma, are often activists with different agendas, and include members of the political opposition, ethnic groups, labour activists and human rights defenders. The State Peace and Development Council (SPDC) continues to deny the existence of political prisoners, arguing that 'there are only criminals in Burma's prisons' and refutes claims of torture and ill-treatment. However, the deplorable conditions in these places of detention are well documented. The Assistance Association for Political Prisoners (AAPP) has systematically documented hundreds of cases of torture experienced by political prisoners, dating back to 1988 and as recent as 2010. Through interviews, former political prisoners recount the torture and ill-treatment, which they suffered, as well as that which they have witnessed.
The research reveals that torture is not limited to isolated cases but inflicted in a routine, if not, systematic manner. The same methods of torture have been practiced over the past twenty-two years on political prisoners. The prevalence of specific torture methods in prisons all over the country suggests that some form of 'torture training' has been provided. Under some circumstances, torture can amount to a war crime or a crime against humanity. This paper raises the question of whether the torture of Burma's political activists could constitute such a crime against humanity. It will explore whether the torture is widespread, systematic and premeditated. While, around the world, the past decade has seen a strengthening of legal measures to bring torturers to justice, in Burma, after nearly 50 years of successive military rule and the absence of the rule of law, impunity and a pervasive culture of fear prevail. The State security apparatus, rather than protecting the people, punishes them. The policies of the state and the actions of law enforcement officials are at complete odds with international human rights standards.
Internationally, there is an increasing interest in and a growing campaign for, a Commission of Inquiry into crimes against humanity in Burma. Such an inquiry raises the possibility of the potential prosecution of the instigators and perpetrators of torture.
The long-term goal of research and documentation on torture and ill-treatment, by AAPP, is to develop an accurate historical record that can be used in any transitional justice process, or independent investigation, in a future democratic Burma.
Note – a root from Human Rights in Southeast Asia: Series One. Breaking the Silence
Download/view
Author: Bo Kyi and Hannah Scott
Topics: ICCPR
Output: Human Rights In Southeast Asia Series