Jean Linis-Dinco
Jean Linis-Dinco is a PhD candidate at the University of Melbourne. She is interested in using programming tools in media analysis to predict conflicts. Her past research has analysed HIV/AIDS-related reports in the Philippines, media sentiments towards LGBTIQ communities in Nepal, and the impact of securitisation on marginalised communities in Indonesia. Jean has worked as a Public Information Consultant for the United Nations Office of the High Commissioner for Human Rights. She tweets at @imajeanpeace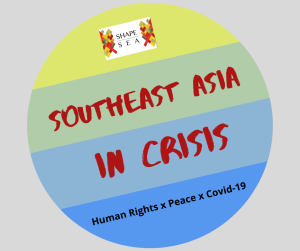 Being one of the most culturally-diverse countries in the world, the Philippines is home to at least 17 million indigenous peoples (IPs) belonging to 110 ethnolinguistic groups (United Nations Development Programme, 2010). While they are recognised on paper through the 1987 Constitution and further protected by the Republic Act 8371, the reality is different on the ground.
Now more than ever, IPs in the Philippines are facing increased securitisation from the state. It should be remembered that in July of 2017, Philippine President Duterte threatened to bomb Lumad schools for allegedly spreading subversive ideas and communism (Lingao, 2017). The government has also recently secured a $211.2 million loan from China Exim Bank to build Kaliwa Dam in northern Luzon in the face of disapproval from local IP groups in the area (CNN Philippines Staff, 2020).
The antagonistic attitude of the administration towards IPs sits on top of intergenerational oppression, violence and discrimination (Ty, 2010). As most IPs in the Philippines live in far-flung areas where access to health facilities is inadequate (International Work Group for Indigenous Affairs), they already experience lower health indicators and are no strangers to infectious diseases such as tuberculosis and leprosy (Global Alliance for Rabies Control, 2018). This means that the global COVID-19 pandemic not only deepens pre-existent forms of omission but also presents a severe threat to their very existence.
Land disputes and IPs in the country have an extensive and bloody history, especially in the island of Mindanao (Chandran, 2018). This has put thousands of IPs in a situation of necessity to escape their homeland and move to the capital to avoid being caught in the clash between state forces and non-state armed rebels (Delizo, 2019). However, the situation in Manila never offered them a safe zone. The presence of the pathogen further aggravates intersecting 'everyday' vulnerabilities that IPs face in the capital.
The Philippine government has romanticised the pandemic as something that uniformly affects people from all walks of life. They took advantage of the resilience of the Filipino people amidst catastrophes (Department of Foreign Affairs, 2020). It feels as if they are suggesting that people living in gated subdivisions have the same experience as the displaced IP communities living on the streets of Manila, who were mostly dependent on the informal economy which crumbled as a result of the lockdown. As they watch their livelihoods shatter, they go an extra mile to put food on their table in the middle of the lockdown where they can face frightening and lop-sided responses from security forces. COVID-19 has become a piece of equipment for the government to suppress human rights under the guise of 'emergency power' (ul Khaliq, 2020). Duterte, for instance, instructed security forces to shoot people dead who are not following quarantine orders (Capatides, 2020; International Work Group for Indigenous Affairs, 2020). This has empowered the police force to abuse their power in various ways, including confining people to dog cages and coffins (Human Rights Watch, 2020). There is politics in pandemics. As the health crisis persists, local government units would prioritise people in their electorates, which means that displaced communities living in those cities would be discounted from any 'ayuda' or cash relief programmes.
The situation in the Philippines confirms that the perils generated by COVID-19 should not only be measured by the R-naught alone. It correspondingly divulges the established and evolving challenges that IPs confront in their everyday lives and during times of emergencies. As long as the government repudiates to acknowledge the pain and suffering of IPs, we will never escape that loophole. Instead of prioritising militarisation and red-tagging, the government should allow self-determined indigenous communities to devise and run their own COVID-19 roadmap plan. IP communities know best what kind of assistance they need to not only survive the pandemic but also create a sustainable environment where their lives and cultures can flourish in the long run.
References:
Capatides, C. (2020, 2 April). "Shoot them dead": Philippine President Rodrigo Duterte orders police and military to kill citizens who defy coronavirus lockdown. CBS News. Retrieved from https://www.cbsnews.com/news/rodrigo-duterte-philippines-president-coronavirus-lockdown-shoot-people-dead/
Chandran, R. (2018, 19 April). Driven from home, Philippine indigenous people long for their land. Reuters. Retrieved from https://www.reuters.com/article/us-philippines-landrights-crime-idUSKBN1HQ034
CNN Philippines Staff. (2020, 3 March ). Construction of China-funded Kaliwa Dam eyed by July – Panelo News. CNN Philippines. Retrieved from https://cnnphilippines.com/news/2020/3/3/Kaliwa-Dam-July-2020.html
Delizo, M. (2019, 30 March). One, two… flee: Lumad teens find refuge in Manila, pursue studies. ABSCBN News. Retrieved from https://news.abs-cbn.com/spotlight/03/30/19/one-two-flee-lumad-teens-find-refuge-in-manila-pursue-studies
Department of Foreign Affairs. (2020, 22 June). DOST Secretary Highlights Filipino Natural Resiliency, Creativity in Responding to COVID-19 Pandemic at UN High-Level Debate. Retrieved from https://dfa.gov.ph/dfa-news/news-from-our-foreign-service-postsupdate/27015-dost-secretary-highlights-filipino-natural-resiliency-creativity-in-responding-to-covid-19-pandemic-at-un-high-level-debate
Global Alliance for Rabies Control. (2018). Double duty: Raising awareness for rabies and screening for leprosy in Philippine indigenous populations. Retrieved from https://rabiesalliance.org/resource/double-duty-raising-awareness-rabies-and-screening-leprosy-philippine-indigenous
Human Rights Watch. (2020). Philippines: Curfew Violators Abused. Retrieved from https://www.hrw.org/news/2020/03/26/philippines-curfew-violators-abused
International Work Group for Indigenous Affairs. Philippines. Retrieved from https://www.iwgia.org/en/philippines.html
International Work Group for Indigenous Affairs. (2020). 'Shoot them dead': Duterte's orders alarm Indigenous Peoples' Human Rights Defenders [Press release]. Retrieved from https://www.iwgia.org/en/news-alerts/news-covid-19/3556-shoot-them-dead-duterte%C2%B4s-orders-alarm-indigenous-peoples%E2%80%99-human-rights-defenders.html
Lingao, A. (2017, 25 July). Duterte threatens to bomb Lumad schools News. CNN Philippines. Retrieved from https://cnnphilippines.com/news/2017/07/25/Duterte-threatens-to-bomb-Lumad-schools.html
Ty, R. (2010). Indigenous Peoples in the Philippines: Continuing Struggle. Retrieved from https://www.hurights.or.jp/archives/focus/section2/2010/12/indigenous-peoples-in-the-philippines-continuing-struggle.html
ul Khaliq, R. (2020, 23 March). COVID-19: Philippines President seeks emergency powers, News. AA. Retrieved from https://www.aa.com.tr/en/asia-pacific/covid-19-philippines-president-seeks-emergency-powers/1775788
United Nations Development Programme. (2010). Fast Facts: Indigenous Peoples in the Philippines. Retrieved from https://www.ph.undp.org/content/philippines/en/home/library/democratic_governance/FastFacts-IPs.html