Eunice Barbara C. Novio
Vongchavalitkul University, Nakhon Ratchasima, Thailand
Correspondent: Inquirer.net US and Canada Bureau
eunice.novio@gmail.com; eunice_nov@vu.ac.th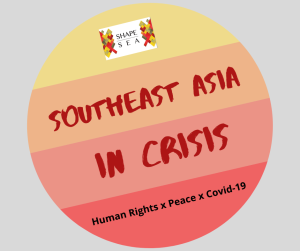 Sometime in March, I came to Vientiane, the political and economic centre of Lao PDR, for a break and to follow the route of migrant Filipinos in the Mekong Region affected by COVID-19. Nursing a bottle of its world renowned Beer Lao, I was at the veranda of the quaint hotel in the heart of Vientiane watching European guests frolicking in the pool. Little did they know that three days from now, all visas on arrival would be canceled and in just a few days, the whole country would be in full lockdown. There was not a single known case of infection yet, as we were told to believe. But things have drastically changed since then. To date,  the country has already recorded ten cases of COVID-19. Lao PDR has been on lockdown since 30 March, until April 19 or when the situation gets better. Furthermore, the border is open only for the transportation of goods and medical supplies (Savankhan, 2020).
Lao PDR, a tiny land-locked socialist country sharing borders with Vietnam, Cambodia, Thailand, Myanmar and China, is home to 7,250,525 people.  Before COVID-19, Vientiane was abuzz with nightlife, particularly the stretch of Chao Anou road going to the Mekong Riverside. Since 2003, thanks to the relaxed policy of the Politburo, tourism and Chinese money have been pouring into various investments such as energy, raw materials, hydroelectric dams, mining and forestry, real estate and transport (Songwanich, 2015).
The country, labeled as an "oasis" by Philippine Ambassador to Laos Belinda Ante, is not just gaining popularity amongst tourists, but also amongst foreigners, including Filipinos, in Thailand who are on "visa runs"—a short stay outside the country where one can apply for a new visa. However, due to its location and frequent border crossings from neighboring countries, Lao PDR is highly vulnerable to infectious diseases like COVID-19.
Precautionary Measures
As early as late January, embassies have started to find ways curb the rate of COVID-19 infection in their respective countries. On 19 March, the Lao government had ordered for the closure of all educational facilities including universities. On the same day, it indefinitely suspended provision of all types of visas to foreign tourists including those from ASEAN countries effective midnight of 20 March (Laos suspends tourist visas, closes schools to prevent Covid-19, 2020).
There are around 1,600 Filipinos in Laos, of which 40 percent are teachers, and the rest working as IT, development workers, and engineers. Some of them are working in various development projects throughout the country. Despite the small population of Filipinos, the Lao Government and the Philippine Embassy have been collaborating to implement precautionary measures to protect them.
The Philippine Embassy had already procured emergency equipment like thermal scanner, and hygienic kits. Large gatherings were also suspended for the meantime. Ambassador Ante spearheaded the distribution of 250 hygiene kits to Filipinos in commemoration of the Women's Month, as well as, to raise awareness on COVID-19. The kit contained face masks, ethyl alcohol, spray bottles, and wet wipes. It also included a flyer listing preventive measures to avoid contracting COVID-19.
Worst Case Scenario
"When we talk of emergency, it may mean wars, or floods. But this is different," Ambassador Ante, said.
The Philippine Embassy has been trying to address concerns by Filipino migrant workers, specially teachers who may be out of work due to indefinite suspension of classes. To monitor the situation, a communication line has already been established in crucial areas of Lao PDR for better coordination.
Ritchelle Vargan, principal at Achievers Kindergarten School in Vientiane, said her employer still compensates its teaching staff despite the temporary closure of the school. However, she is worried about access to medical services. Her mother, who currently lives with her, usually travels to Udonthani, a nearby city in Thailand, for her check-ups. Lao PDR, which is a least developed country, does not carry out the same quality of health services compared to Thailand. Moreover, social security insurance can only be enjoyed by citizens. This leaves foreign workers at a vulnerable position, especially in a health crisis. However, Ambassador Ante stressed that some employers assured her the Filipino workers are provided with a medical and health insurance.
Another issue is access to essential goods such as food. Most supplies being consumed in the country are still sourced from Thailand. Despite the ability to produce locally, farm to market roads are still are difficult due to its topography. Many provinces in Laos take days to reach by land.
How ready is the Philippine Embassy?
The Philippine embassy can provide the option of repatriation for distressed compatriots. "If Filipinos need to be evacuated and there are no more commercial flights, there is a possibility of using a chartered flight or military planes," Ambassador Ante said. The situation in Lao PDR has definitely not reached its peak, and with how information is being managed and disseminated, the situation may get ever much worse. This only causes much panic and anxiety to already vulnerable Filipino migrants living in this landlocked country.
'Go home before, Tuesday,' my editor said. I left Vientiane before the Laos-Thailand border closed down at midnight of 21 March.
References:
https://www.worldometers.info/world-population/laos-population/
Songwanich, S. (2015, June 7)China's strong investments in Laos bringing a transformation, The Nation, https://www.nationthailand.com/opinion/30261822
Savankham, F. (2020, March 29)Laos To Enter Lockdown Starting March 30, Laotian Times, https://bit.ly/3dYsHZA
Not listed. (2020, March 19Laos suspends tourist visas, closes schools to prevent Covid-19, The Star, https://www.thestar.com.my/news/regional/2020/03/19/laos-suspends-tourist-visas-closes-schools-to-prevent-covid-19