Ruthra Mary Ramachandran
Student of Southeast Asian Studies, Department of Southeast Asian Studies
Faculty of Arts and Social Science, University Malaya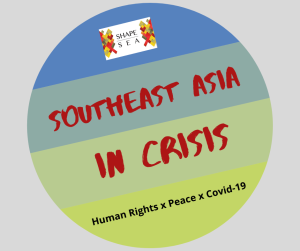 The continuous rise of Covid-19 cases in Malaysia has forced the Government to keep extending the movement control order (MCO). While we are maintaining social distancing in comfort  to fight the virus, let's not forget many "invisible communities" are not only at great risk of contracting COVID-19 but worse than that; concurrently being forced to endure hunger during this nationwide lockdown. Thus, many NGOs' have ramped up their efforts to carry out food relief programs.
Who are these invisible communities?
The 'invisible communities' refers to certain group of people in the society who have been separated or systematically excluded from the majority of the public. This generally includes migrant workers, refugees, stateless people and indigenous community. The reason why they are described as such is because these people exist in a country without any proper identification given to them. Thus, they often get left out altogether from any vital legal services, and are more vulnerable to exploitation and abuse.
In most countries, government assistance, even before Covid-19, has largely been prioritized the needs and welfare of citizens. Malaysia is no different. Invisible communities have been hit hard than any other vulnerable groups mainly because they are voiceless, estranged, and most are undocumented, making them most at risk in times of national crisis.
Assessments of the plight of migrant workers have long been contested in Malaysia, however an ISEAS report stated that Malaysia houses 3.85 to 5.3 million migrants in 2018, including undocumented illegal workers while NGO estimates almost 8 million (Leng, 2018). This is also true for stateless peoples. Many of whom have been in the country for years yet have no meaningful access to government services and aid. Whereas, the indigenous peoples were also being overlooked due to their estrangement from mainstream communities. However they were at least put under the surveillance of a specially consigned government department. ("Making the invisible visible: Faces of poverty in Malaysia," 2020)
How the pandemic does affect the food security of invisible communities?
Food security isn't just about putting food on the table. Food security depends principally on three variables: availability of food, access to food and a nutritious diet, and proper use of food to ensure maximal nutrition and hygiene ( US,2005). The surge of Covid-19 has extended the MCO as well as restricted all level of business sectors from operating. This has seriously hampered the source of income for members of invisible communities, who are mostly daily wagers or odd job workers. Being out of jobs and having no money to buy food supply in bulk, they suffer of hunger and lack of access to food. Moreover, considering the Malaysian Dietary Guidelines (MDG) by the Ministry of Health (MOH), the cost of preparing nutritious meals at home is between RM756.30 and RM1,153.50 per month, depending on location. This is around the poverty line income (PLI), meaning that poor households would need to spend their entire monthly income appropriately in order to attain required nutrition on a daily basis. In this scenario, it is even harder for invisible communities to comply.
In terms of food availability, it is easier for authorities to trace normal food supply chain and make sure of the supplies reach mainstream sellers. However, according to Dr Sarena Che Omar (senior research associate, Khazanah Research Institute), for some consumers such as undocumented workers, their food supply chain is invisible. In other words, they may source their food differently than others such as from the nearby sundry shop or public market (the cheapest source of food available) and it may be disrupted due to the lockdown which made them even more vulnerable to hunger.
Sustainable and rights-based solutions for Invisible community
Government, in partnership with the private sector should as well as the media and the NGOs need to put more attention towards the invisible community. This allows for thinking through initiatives that can build a collective sustainable approach to manage the social effects of the crisis on these people which will continue long after any MCO is lifted, and to encourage that resources are spent to go beyond immediate relief to address underlying problems.
Approaches to foster inclusiveness in the vulnerability assessment and policy making. The International Labour Organization (ILO) estimates that foreign workers comprise a third of Malaysia's workforce. As foreigners, they are the largest group in terms of numbers of excluded population not included in the poverty assessments within Malaysia("Making the invisible visible: Faces of poverty in Malaysia," 2020). Likewise, citizenship issues and lack of legal documents have caused many invisible communities such as the refugees and indigenous communities are unable to access social safety net.
There is a need for a clear, inclusive, centrally designed and nationally applied definition of eligibility for social protection of assistance in order to create inclusive policies that is conscious of the vulnerabilities of both visible and invisible consumers.
Currently, Malaysia is facing major challenges in setting up a reliable and responsive food security and nutrition information system (relating to the invisible community due to their invisible consumption), which could be used as an effective early warning system and to inform the design of targetted social assistance. Thus, more emphasis should be given for an integrated food security and nutrition monitoring system, which also must incorporate evidence-based and disaggregated.
Invisible communities are already in the verge of food insecurity; now they are already experiencing to hunger and malnutrition due to the lockdown and disruptions triggered by the Covid-19 in Malaysia. According to the Food and Agriculture Organisation of the United Nations (FAO), hunger is considered a violation of human dignity.  Everyone, despite of one's legal, social and economic status, deserves equal right to food and nutrition. Thus, all countries including Malaysia should take serious efforts in fulfilling the obligation to create an enabling environment within which Invisible people are able to enjoy their right to healthy food and nutrition, whether during a crisis or not.
References