Eunice Barbara C. Novio
Vongchavalitkul University, Nakhon Ratchasima, Thailand
Correspondent: Inquirer.net US and Canada Bureau
eunice.novio@gmail.com; eunice_nov@vu.ac.th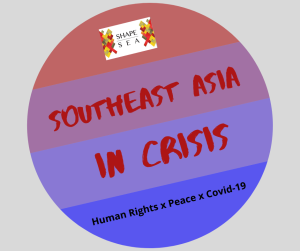 Unlike the previous months, the Thai-Lao border in Nongkhai, Thailand is not crowded with people from various countries doing visa runs. Earlier, Laos has closed its four immigration checkpoints in Nakhon Phanom Muang Khob in Sayaboury province in Laos bordering Thailand's Phayao Province. On March 19, Laos suspends all types of visas to foreign tourists including ASEAN countries effective midnight of March 20 until April 20 (Novio, 2020).
The border closing has been affecting the Filipinos and other migrant workers seeking visas either for work or tourism in Thailand. Usually, foreigners seeking to work in Thailand apply for visa in Thai Consular Office in Laos or in Savannakhet.
In the Mekong Region, Laos shares borders with Vietnam to the east, Cambodia to the south, Thailand to the west, and Myanmar and China to the north. Due to its location and frequent border crossings from neighboring countries, Laos' is vulnerable to entry of infectious diseases like COVID-19.
In the morning of March 19, several second-timer tourist visa applicants were already turned down by the Thai consular office. The policy was unannounced that even the agency operators were caught off-guard.
Jane is an undocumented migrant Filipino worker in Thailand for the past four years. She did visa run several times. She needs to stay overnight in Vientiane so she can get a visitor stamp for another 30 days upon returning to Nongkhai border in Thailand. A hotel worker was also denied with a 3-month visa. He contemplates going home. But with no money to fly back home, how could he? Their employers failed to provide the documents to secure work visas. Upon returning to Thailand, they can only stay for 30 days. Beyond that, they do not know. Many of them are out of work due to the closure of business establishments and schools around Thailand.
Those who are 'stranded' in Thailand, both workers working undocumented and legitimate tourists are given 30 days to leave the country. The Philippine Embassy issues letter upon the requests of an individual guaranteeing that the holder of the letter will leave the country as soon as the ban on air travels are lifted, which is approximately 30 days.
Some who just renewed either work visa (Non-B), ED (education) or dependent (Non-O). These are only for 90 days, and renewable for one year. Those who are able to secure visa for one year needs to renew it every year.
Maricris Vistro and her family have been living in Thailand for 19 years, yet the current situation makes them uneasy. She and their only child have Non-O or dependent visa under her husband.
In a survey done by PinoyThaiyo, an online website based in Thailand, (2020) reveals that 81% of the Filipinos are affected by the Covid. The survey was participated by 1,047 Filipino workers in from different province.
Some companies and schools provide insurance for their employees. In some universities and government schools, workers are provided with a Pragansangkoom or social security (SS) insurance. Known as the Workmen's Compensation Act of 1994, both the employers and the employees of private companies, including foreign workers are required to enroll in PhraGansangkhom (Novio, 2018).
Aside from unemployment benefit and pension at the age of 55, PhraGansangkhom members can avail of medical benefits such as hospitalization (to the accredited hospital), maternity benefits, burial (cremation) and repatriation. It now includes hospitalization due to Covid-19.
In 2017, there are 17,921 Filipinos in Thailand. An estimated 4,000 are considered irregular or undocumented.
Thousands of regular and irregular Filipino workers in Thailand are in danger of losing a jobs if the pandemic continues. Although the Philippine Embassy in Bangkok assures that it would help in the repatriation, but it would take long as part of the 'long term contingency plan' for the Filipinos. However, given the situations of the Filipino workers, many of whom are yet to (or not) registered to Overseas Workers Welfare Administration (OWWA) priority will be given to documented workers. If ever they are repatriated, there is no designated quarantine area. Secretary of Health Francisco Duque is a poor excuse of a health practitioner. His ineptitude contributes to the uncertainties the Filipinos are facing.
As a labor sending country, the Philippines faces a more complex dilemma. The recent budget cut to the health sector exacerbated the health problems. How will the Philippine government address the health and economic issues facing the displaced workers?
At this time of uncertainty, it is a matter of protecting the territory and its own people. Meanwhile, the Filipinos have to choose survival at all costs.
References:
Novio, E. (2020, March 20)Filipinos in Laos cope, prepare amid COVID-19 threat, Inquirer.net, https://globalnation.inquirer.net/186209/filipinos-in-laos-cope-prepare-amid-covid-19-threat
Novio, E. (2018, September 5), Filipinos in Thailand urged: get insurance Inquirer.net,https://globalnation.inquirer.net/169636/filipinos-thailand-urged-get-insurance
Pinoythaiyo, (2020, March 31), Survey reveals 81% of Filipinos in Thailand affected by covid, https://pinoythaiyo.com/2020/03/31/survey-reveals-81-of-filipinos-in-thailand-affected-by-covid-19/?fbclid=IwAR2uaGlq8BHcHYdeNxdTlq0p87cbrI1_x3vL7HkReTDyo73ryJUU2v5YX74