Gianna Francesca M. Catolico
Gianna completed her Master's degree in Human Rights and Democratization at Mahidol University and is the incumbent treasurer of the Asia-Pacific Master's Program Alumni Association. She currently works for Initiatives for Dialogue and Empowerment through Alternative Legal Services (IDEALS Inc.), a Manila-based NGO.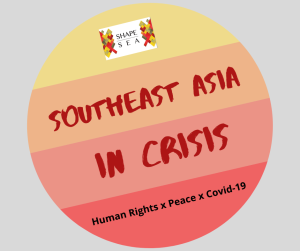 Over the past few days, there are bulldozing reports of several politicians flexing their 'VIP' status to access COVID-19 testing in the Philippines, which was not made available to the public. There was mounting denunciation, online and off-line, over the Duterte regime's preferential treatment towards high-ranking public servants vis-à-vis at a time when there was only a staggering 2,000 COVID-19 testing kits (Yee, 2020.) When criticism simmered to unprecedented levels, the country's Department of Health, helmed by Sec. Francisco Duque, already confirmed that at least 34 politicians and their spouses, majority of them asymptomatic, hastily acquired testing for the coronavirus. While three senators and one House representative tested positive for COVID-19, some of their brood hopped into the 'trend' and got tested, too (Domingo, 2020.) One senator, who later tested negative, even smiled for the snaps and posted his private COVID-19 test online, much to the ire of Filipinos. Another senator —the Senate President himself — candidly told the press he availed of the test twice, then admitting that he first used an 'unaccredited' test kit administered by his friend (Tan, 2020). And oh, President Rodrigo Duterte's partner and his four children, although not manifesting symptoms, were tested anyway (Merez, 2020).
To make matters more putrid, some of these VIPs directly connived with the Research Institute for Tropical Medicine (RITM), the country's lone testing center for COVID-19, and even demanded the already-understaffed and financially-challenged institute to swab them and release their results in a snap (Cigaral, 2020.) Plagued by the government's preferential testing conspiracy, health workers, front liners, those in close contact with confirmed COVID-19 cases, and underprivileged Filipinos displaying symptoms of the virus, have to wait for a week before they get their test results. Take the example of cardiologist Israel Bactol, whose COVID-19 results were delayed by four days because some government officials demanded RITM to disclose their respective COVID-19 results in less than 24 hours. Bactol passed away on March 21 without learning his official results (Concepcion, 2020.)
There are reported incidents of patients who died in despair, yet their results came too late. Amid the outpouring of testing kits donated by Singapore, South Korea, and Chinese business magnate Jack Ma, the DOH is tight-lipped when queried about mass testing and availability of testing kits to the public.
Let me tell you a mic – dropping story of one of the senators who tested positive for the virus. A week before his result came out, one senator shrugged off his symptoms and attended two parties, one meeting, and was sighted shopping at an exclusive shopping center in an affluent neighborhood. On top of that, he ushered his pregnant wife to the hospital, which led to the self-quarantine of 22 hospital staff and ruptured of their COVID-19 operations (ABS-CBN, 2020.) Instead of observing a 14-day quarantine as per DOH guidelines, he jeopardized the public's health with his VIP 'virus'.
Beyond this reeling narrative, thousands of poverty-stricken people who may have contracted the virus via local transmission, are denied access to COVID-19 testing kits and are reportedly 'kicked out' of hospitals due to shortage of wards and health workers. Not to mention that physicians and nurses who once tended the medical needs of COVID-19 patients perished because of the same virus. As of this writing, more than nine doctors sacrificed their lives to the pandemic in the country (Magsino, 2020) and millions of Filipinos were deprived of their right to health and access to COVID-19 testing.
These public servants who reminded us to "stay at home" and "wash our hands for 20 seconds" had metamorphosed into self-serving VIPs who evade precautionary measures, disobey rules, and easily avail of COVID-19 test kits as if they're freebies from a birthday party.
References:
22 Makati Med nurses under home quarantine: director. (2020 March 26). ABS-CBN News. Retrieved March 27, 2020, from: https://news.abs-cbn.com/news/03/26/20/22-makati-med-nurses-under-home-quarantine-director
Yee, J. (2020, March 19). Duque explains 'preferential tests' for Duterte kin, others. Inquirer. https://newsinfo.inquirer.net/1244663/duque-explains-preferential-tests-for-duterte-kin-others
Domingo, K. (2020, March 23). Senators clarify, apologize for taking COVID-19 tests. ABS-CBN News. https://news.abs-cbn.com/news/03/23/20/senators-clarify-apologize-for-taking-covid-19-tests
Concepcion, P. (2020, March 23). Gov't officials crowd out patients for COVID-19 testing. Inquirer. https://newsinfo.inquirer.net/1246714/govt-officials-crowd-out-patients-for-covid-19-testing
Cigaral, I. (2020, March 24). Duque: 'VIPs' directly requested to get tested for COVID-19. Philippine Star. https://www.philstar.com/headlines/2020/03/24/2003120/duque-vips-directly-requested-get-tested-covid-19
Magsino, D. (2020, March 26). Dr. Sally Gatchalian, 9th doc to pass away in Philippines after battling with COVID-19. GMA News. https://www.gmanetwork.com/news/news/nation/731333/dr-sally-gatchalian-9th-doc-to-pass-away-in-philippines-after-battling-with-covid-19/story/
Tan, L. (2020, March 23). Health Dept. gives COVID-19 testing 'courtesy' to officials involved in nat'l security, public health. CNN Philippines. https://cnnphilippines.com/news/2020/3/23/Senator-Tito-Sotto-coronavirus-COVID-19-test.html
Merez, A (2020, March 17). Duterte family tested for COVID-19. ABS-CBN News.
https://news.abs-cbn.com/news/03/17/20/duterte-family-tested-for-covid-19