Saw Lin Htet
Student, Asia Pacific MA Human Rights and Democratisation
Global Campus of Human Rights Asia Pacific
Institute of Human Rights and Peace Studies, Mahidol University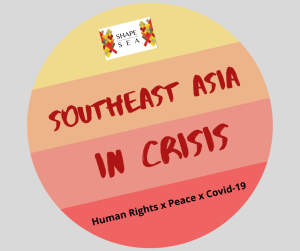 Currently, around one million Rohingya refugees live in refugee camps in Cox's Bazar, Southern Bangladesh (HRW, 2020). They are one of the unrecognized ethnic minorities in Myanmar who have faced persecution for generations. Aid agencies had warned about the potential risks of the virus in the camps since the refugees are living in poor conditions and have limited access to clean water. Nevertheless, the first two cases were confirmed in the camps on 14 May, and 1,900 refugees isolated for health tests (BBC, 2020).
All refugees have the right of access to medical care and schooling, and the right to work. They should receive "the same rights and basic help as other foreigners with legal status" (UNHCR, 2002).  However, aid workers are not able to rely on internet-based communication for providing emergency health services during this pandemic and lockdown. The Bangladeshi government has shut down the internet and restricted mobile communications since September 2019. On the other side of the refugee camp in Rakhine State, Myanmar, the Myanmar government has also banned mobile internet services in nine townships in Rakhine and Chin States since June 2019 (HRW, 2020). The refugees face a lack of information due to the internet shut down from both sides. The rumor around the camps is spreading that "those who are found with this virus are shot to death," so refugees are afraid of testing for the virus (Ali, 2020). Although health-related pieces of information are available in Roghigya language on the web in Myanmar, Rohingya people can not access it because of the internet shut down (MIMU, 2020).
Rohingya people are at risk of landslides and flooding, and face a lack of access to clean water, sanitation, and hygiene due to restrictions on freedom of movement (HRW, 2020). They also encounter disasters as the camps are located in disaster-prone areas in Bangladesh. On 21 May, a super cyclonic storm, Amphan, damaged 300 Rohingya shelters in Cox's Bazar, of which 30 were destroyed entirely (NewAge, 2020). Last 13 May, a fire also obliterated 312 accommodations and partially damaged 362 in the Kutupalong refugee camp in Cox's Bazar where 50,000 Rohingya refugees are living (Free Burma Rangers, 2020). With the monsoon season coming, improved preparedness is needed to manage not only the risk of the Covid-19 pandemic but also unforeseeable disasters such as floods and landslides.
On 21 May, both the World Health Organization and the UNHCR, the UN Refugee Agency, signed an agreement for the preparedness, prevention, and response to Covid-19 for refugees, internally displaced people, and forcibly displaced people (UNHCR, 2020).
Rohingya refugees need adequate healthcare, testing kits, and quarantine facilities in refugee camps. Additionally, both governments need to lift internet restrictions so refugees can access health information from both sides. Medical supplies, hygiene, and sanitary items are an urgent need for the people at the refugee camps. Urgently, pregnant women and breastfeeding women under quarantine need health care and psychosocial support (UNFPA, 2020).
According to the International Convention on Economic Social and Cultural Rights, Article 12, General Recommendation 22, the right to health belongs to the refugee, including women and vulnerable people. Article 22 of the Convention on the Rights of the Child also guarantees refugee children the right to protection, humanitarian assistance, and the best interest of the child (Dutta, 2016). Since Myanmar and the Bangladeshi government are signatories to the conventions, both governments must ensure the Rohingya refugees' rights according to their commitments.
References:
Ali, M., 2020. The world's largest refugee settlement is in the crosshairs of a cyclone and a pandemic. The Washington Post. [Online] 22 May. Available at: < https://www.washingtonpost.com/opinions/2020/05/21/worlds-largest-refugee-settlement-is-crosshairs-cyclone-pandemic/?fbclid=IwAR0_lk3K3tL-ABs1o_ZAKXWu04SQGy8_EZHbYSllaLwhcl41ylQUtxBv56g> [Accessed 22 May 2020].
BBC, 2020. Coronavirus: Two Rohingya test positive in refugee camp. BBC News. [Online] 14 May. Available at: https://www.bbc.com/news/world-asia-52669299 [Accessed 21 May 2020].
Dutta, K., 2016. Checklists for Core International Human Rights Treaties: A Handbook. Bangkok: Asia Institute for Human Rights. [Pdf] Available at: <http://www.aihrhre.org/download/checklists-core-international-human-rights-treaties/>  [Accessed 9 October 2019].
Free Burma Rangers, 2020. During the morning of 13 May, a devastating fire took place. [Facebook] 22 May. Available at: https://www.facebook.com/pg/FreeBurmaRangers/posts/?ref=page_internal [Accessed: 22 May, 2020].
HRW, 2020. Bangladesh: Internet Ban Risks Rohingya Lives. [Online] 26 March. Available at: < https://www.hrw.org/news/2020/03/26/bangladesh-internet-ban-risks-rohingya-lives> [Accessed 22 May 2020].
HRW, 2020. Bangladesh: Rohingya Refugees in Risky Covid-19 Quarantine. Human Rights Watch. [Online] 5 May. Available at: https://www.hrw.org/news/2020/05/05/bangladesh-rohingya-refugees-risky-covid-19-quarantine [Accessed 21 May 2020].
MIMU, 2020. Coronavirus disease (COVID-19) Pandemic. Myanmar Information Management Unit, [Online] 18 April. Available at: <http://themimu.info/emergencies/coronavirus-disease-2019-covid-19> [Accessed 6 April 2020].
NewAge, 2020. 330 Rohingya shelters damaged by cyclone Amphan. NewAge Bangladesh. [Online] 22 May. Available at: < https://www.newagebd.net/article/106955/330-rohingya-shelters-damaged-by-cyclone-amphan> [Accessed 22 May 2020].
Robertson, P., 2020. Myanmar Again Cuts Rakhine State's Internet. Restore Telecommunications, Allow Aid to Conflict Areas. [Online] 5 February. Available at: < https://www.hrw.org/news/2020/02/05/myanmar-again-cuts-rakhine-states-internet> [Accessed 22 May 2020].
UNFPA, 2020. Pregnant Women, new mothers and newborns in Cox's Bazar urgently need your help. [Online] Available at: < https://donate.unfpa.org/np-en/covid-rohingya?utm_source=Facebook-ad-Test-344&utm_medium=Facebook&utm_campaign=COVID-19&fbclid=IwAR2kg8Bt75okzpmEgGp2ZjIx4RLBfEUyggOp3GrnGKo21HQjfwyDrZDUz_A> [Accessed 21May 2020].
UNHCR, 2002. Protecting Refugees: questions and answers. [Online] 1 February. Available at: < https://www.unhcr.org/publications/brochures/3b779dfe2/protecting-refugees-questions-answers.html> [Accessed: 21 May 2020].
UNHCR, 2020. WHO and UNHCR join forces to improve health services for refugees, displaced and stateless people. [Online] 21 May. Available at: https://www.unhcr.org/news/press/2020/5/5ec64b6b4/unhcr-join-forces-improve-health-services-refugees-displaced-stateless.html?fbclid=IwAR3fUWaniZ9_q-mnwrydz2BH3fnZ-SKJvvRvSkTtccWyxUUB0-ztiAi6kIA [Accessed 22 May 2020].