Suthida Chang
Suthida is currently pursuing an MPA in Innovation, Public Policy and Public Value at University College London, UK, where she volunteers as a Project Access International Mentor, a member of the Student Union Volunteering Think Tank and actively contributes to UCL Asiatic Affairs as an Events Executive. She is a World Youth Alliance certified member who leads the WYA UCL Chapter to advocate for human dignity and Cultural Intelligence.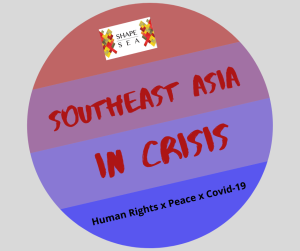 Looking back at 2020, it is undeniable that COVID-19 has evolved from a global health crisis to a political-security debate and now a socioeconomic emergency. For tourism-dependent Thailand, COVID-19's restrictions on international mobility has caused the Thai economy to plunge, perhaps to the lowest point since the 1997 Tom Yum Gung financial crisis. Coupled with political unrest and natural disasters, analysts suggest it might take at least three years before the Thai economy can return to pre-COVID levels (Chudasri & Sangwonwanich, 2020) as up to 13,400 business are predicted to close (UCA News, 2020).
In the social sphere, despite government subsidies and rounds of campaigns that encourage domestic travel, such as the 'Rao Tiew Duay Gun' and 'Khun La Kreung' initiatives, poverty and hunger continue to be highlighted as main concerns for Thailand's administrators (UCA News, 2020). Millions of Thai people are hungry for social protection, income, medical access, education and literally, starved of food.
Amidst the bleak future of the COVID-19 recession and government resource limitations, a rather peculiar actor entered the playing field and became a beacon of hope for ordinary Thai people. Thailand's civil society stepped in to ameliorate the pandemic-triggered hunger crisis. Inspired by similar projects like the Little Free Pantry Movement and Foodbank that were successful in America and Australia (Coconuts Bangkok, 2020), Thailand's community pantry project — Too Pan Sook or "Pantries of Sharing" — was launched in early May.
Starting from locations in Bangkok and Rayong, these community-driven initiatives spread to 43 provinces over one weekend to cover locations across Central Thailand, the Northeastern region, Northern Thailand, Eastern Thailand and Southern Thailand (Post Reporters, 2020). These pantries were usually stocked with non-perishable food or items with a long shelf-life including canned fish, cooking oil, instant noodles and grains, although fresh products like eggs were also found on the shelves (Khaosod English, 2020).
This initiative born out of ordinary Thai people proved to be life-saving for many of the country's vulnerable groups who have had their economic means cut off because of the COVID-19 restrictions. Beyond the pandemic, the success of Thailand's community-driven food solution could serve as a turning point that challenges the country to rethink its understanding of and perceptions  towards 'civil society'.
A civil society generally refers to an independent entity between the private sphere and the public sphere that serves grassroots needs. Civil society advocates for rights through actions that pursue value-creating sociopolitical, environmental and/or economic objectives. Civil society also constitutes part of the system of check and balances that keep the state accountable, such as through influencing how new policies are enacted and monitoring implementation.
However, civil society tends to be interpreted as anti-government in the Thai political-cultural context. Contrary to a tradition of 'listen and follow', civil society 'influences and negotiates'. Characterized by the ongoing protests, civil society is likened to the 'dark side'. On top of that, power dynamics also need to be examined in the Thai case, whereby concern is reflected in questions like who are or can become part of civil society? Who are those with the power to influence the agenda? Who decides what rights and policies to advocate for? How can we ensure policy-makers will take civil society recommendations seriously? And what can we do to invite participation from all?
Although these are genuine concerns that determine the success and sustainability of Thai civil society, the scale and success of Thailand's community pantries are concrete proof of the ambitions and capacity of the local civil society. Where politics matter, Thai civil society is not necessarily anti-establishment but rather a complementary arm of the government to enhance public value though its own initiatives.
Operating by the principle of 'by the people, for the people', civil society is capable of delivering high impact and contextualized actions that address grassroots needs. While there isn't a recipe for Thai civil society to flourish within the current political climate, community pantries might cook up an opportunity for civil society — its rational, purpose, mechanisms — to be re-evaluated and re-introduced into the Thai context. A potentially brighter, more accepted future for a non-traditional policy actor to be involved in the policy-making process is exciting, and frankly, much needed.
References:
Chudasri, D. & Sangwonwanich, P. ( 2020, September 30). World Bank sees 10.4% contraction. Bangkok Post. https://www.bangkokpost.com/business/1993839/world-bank-sees-10-4-contraction 
Coconuts Bangkok. (2020, May 11). Help the Hungry: 'Sharing Pantries' spread across Thailand. Coconuts Bangkok. https://coconuts.co/bangkok/news/help-the-hungry-sharing-pantries-spread-across-thailand/
Khaosod English. (2020, May 11). Thais feed hungry neighbors in pandemic with 'Sharing Pantries'. Khaosod. https://www.khaosodenglish.com/news/crimecourtscalamity/2020/05/11/thais-feed-hungry-neighbors-in-pandemic-with-sharing-pantries/
Post Reporters. (2020, May 11). Community pantries expand to 43 provinces. Bangkok Post. https://www.bangkokpost.com/thailand/general/1916136/community-pantries-expand-to-43-provinces
UCA News Reporter. (2020, September 24). Hunger rife among Thai poor as Covid-19 batters economy. UCA News. https://www.ucanews.com/news/hunger-rife-among-thai-poor-as-covid-19-batters-economy/89639#