Noraida Abo and Abie Ayao
Abo is Executive Director of United Youth of the Philippines-Women (UnYPhil-Women), a women's organization based in Cotabato, Mindanao; andAyao, also based in Cotabato, is an Emergency Response Officer of Oxfam Pilipinas, a humanitarian and development organization.
UnYPhil-Women and Oxfam, along with other local partners, are providing life-saving support to families displaced by conflict in Mindanao, including the provision of water, sanitation, and hygiene facilities, food, and dignity kits for the COVID-19 response. Learn more about UnyPhil-Women here: https://bit.ly/unyphil; and Oxfam Pilipinas here: https://philippines.oxfam.org/. This article was written with additional research support from Patricia Miranda of Oxfam Pilipinas.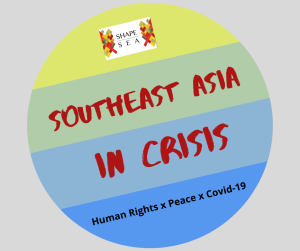 Last week marked one month since United Nations (UN) Secretary General António Guterres called for an immediate global ceasefire to ensure lifesaving aid reaches the poorest and most vulnerable. Indeed, the only fight that should be happening in our world today is the "shared battle" against COVID-19 (United Nations 2020a, 2020b). The call for a global ceasefire resonates because the Philippines, particularly in its southernmost region, has long been plagued by conflict between the government and armed groups, as well as banditry and rido (clan feuds). This state of intermittent violence is worsened by extreme poverty and exposure to various natural hazards, such as typhoons and earthquakes. The threat of COVID-19 now looms large for the internally displaced and families on the move, with women and girls facing disproportionate impacts due to traditional gender roles (Valerio and Parvez Butt, forthcoming), expectations to shoulder the bulk of unpaid care work, and decreased caloric intake as they prioritize the needs of their families (Adle et al. 2020). The situation for internally displaced persons (IDPs) living in evacuation centers and informal camps is even more dire because of the compounded threat of COVID-19 on one hand; and continuing fragility and insecurity due to armed conflict on the other.
Even when the Department of Health and other government agencies issued COVID-19 guidance in February and March, hundreds of families in Mindanao were impacted by armed conflict. In March, a total number of 76,906 families were reported to be displaced (UNHCR Protection Cluster, 2020), with around 250 families fleeing from hostilities between government forces and members of the Bangsamoro Islamic Freedom Fighters (BIFF) in the Maguindanao.
By March 16, 2020, President Rodrigo Duterte declared a state of calamity throughout the Philippines and the entire island group of Luzon was placed under enhanced community quarantine (ECQ) the following day. Other areas followed suit via issuances from local governments, including Visayas and in Mindanao. Yet despite movement restrictions and curfews in place, pockets of conflict and violence continue to occur. According to the UNHCR, in March alone, seven out of 10 armed conflicts in central Mindanao occurred in Maguindanao (UNHCR Protection Cluster, 2020). In April, more than 20 soldiers were either killed or wounded in a clash with Islamic State-Inspired Abu Sayyaf Group fighters in Patikul, Sulu. Episodic clan violence, also known as blood feuds or rido, range from ambushes, hit and runs, to the launching of grenades.  Armed conflict is placing communities in the most unacceptable position of having to choose between fleeing yet risking exposure to COVID-19, or staying put in their homes with the possibility of getting caught in the crossfire.
Even with imposed government lockdowns, some families still evacuate up to three to four times a month. They return to their homes to gather food and earn a living, like harvesting bananas or coconuts. By nightfall, they return to the evacuation centers to rest rather than risk staying home, only to be awakened by gunfire or explosions around midnight or in the early morning. In evacuation centers, one shanty usually houses around two to three families. As many as 70 families share one toilet, and there are limited bathing and handwashing facilities. Access to health services and facilities, which were already extremely limited pre-COVID, are now completely disrupted in many areas. Results from Oxfam's 2019 baseline study in selected areas in Maguindanao show that, even in a pre-COVID-19 context, 91 percent of indigenous IDPs from Datu Hoffer in Maguindanao did not seek medical services due to the distance of hospitals and medical practitioners from where they live. Aside from difficulties in transportation, Lumad IDPs cited that the high insecurity in their area prevented them from seeking medical attention. Additionally, nine percent of women respondents shared that they have never attended any health check-ups or sought medical care because of care responsibilities in the home, cultural practices, and unavailability of health personnel.
The current situation of affected communities and populations serve as stark reminder that no one is safe until all of us are safe. An immediate ceasefire in the Philippines and around the world is a critical step towards building inclusive peace and ensuring an effective COVID-19 response. Just as communities are the first line of defense to stop the transmission of COVID-19, community level peacebuilding is the first line of defense for conflict-affected populations. The Philippine government must increase efforts in supporting local capacities, including those from women's rights and youth-led organizations; leverage community mobilization; and promote ownership of the COVID-19 response.
Our experiences of working and living in Mindanao show that a militarized and draconian measure, or a "kamay na bakal" approach, harms communities, since it creates a culture of fear and silence. A gender perspective is also needed to ensure response operations and strategies do not reinforce discrimination, or enable impunity and violence to thrive. Rather, a peaceful and inclusive COVID-19 response should respond adequately to the different needs of women and girls, homeless and displaced, indigenous peoples, persons with disabilities, and other vulnerable sectors.
Alongside the ceasefire, governments should also look into the roots of armed conflict, ensure that communities are able to decide on matters than concern them, and address the dimensions of poverty and inequalities which gives rise to extremism. Failing to address these roots will allow armed conflict to spark anew even in a post-COVID scenario. To sustain ceasefire agreements and other efforts towards sustainable peace, including the transition phase towards the new structural framework of the Bangsamoro Autonomous Region in Muslim Mindanao (BARMM), women and the youth must play a critical role in shaping the agenda. The meaningful participation of women and the youth in conflict resolution processes that follow ceasefires recognizes their agency, leadership, and their contributions in creating a humane and just COVID-free future.
References:
Adle, Camille, Miriam Solleza, Jeanette Dulawan, Randee Cabaces, Patricia Miranda, Rhoda Avila, and Dante Dalabajan. 2020. "Joint Oxfam Response Strategy: COVID-19 Pandemic Emergency Response."
UNHCR Protection Cluster. 2020. "Philippines: Mindanao Displacement Dashboard March 2020." UNHCR. Retrieved April 24, 2020 (http://www.protectionclusterphilippines.org/wp-content/uploads/2020/04/Mindanao-Displacement-Dashboard_-March-2020.pdf).
United Nations. 2017. "Public Statement by Chair of Security Council Working Group on Children and Armed Conflict." United Nations. Retrieved April 24, 2020 (https://www.un.org/press/en/2017/sc12942.doc.htm).
United Nations. 2020a. "Secretary-General Calls for Global Ceasefire, Citing War-Ravaged Health Systems, Populations Most Vulnerable to Novel Coronavirus" United Nations. Retrieved April 24, 2020 (https://www.un.org/press/en/2020/sgsm20018.doc.htm).
United Nations. 2020b. "Secretary-General Reiterates Appeal for Global Ceasefire, Warns 'Worst Is Yet to Come' as COVID-19 Threatens Conflict Zones" United Nations. Retrieved April 24, 2020 (https://www.un.org/press/en/2020/sgsm20032.doc.htm).
Valerio, Kristine and Parvez Butt, Anam. Violence Against Women and Girls—A Public health Challenge in the Philippines: The Links Between Social Norms and Access to Sexual and Reproductive Health Information and Services. Oxfam International (forthcoming).