Aslam Abd Jalil
Doctoral candidate
https://social-science.uq.edu.au/profile/3925/aslam-abd-jalil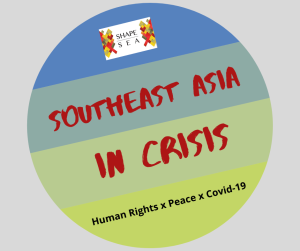 'Malaysia for Malaysians'
'Malaysian Malaysia' was a concept that advocated that all Malaysians were born equal regardless of their ethnic or religious backgrounds. This slogan championed by the late Lee Kuan Yew caused the separation of Singapore from the Federation of Malaysia in 1965 because it challenged the special position of bumiputera or sons of the soil. Until today, Malaysia is still struggling in the nation building process due to the growing friction and animosity between different races. Interestingly, an invisible enemy called corona virus has managed to finally 'unite' Malaysians to safeguard their homeland from (in)visible 'intruders'.
Un/Welcome to Malaysia
Malaysia is home to around 6 million both documented and undocumented migrants which also include refugees (International Organization for Migration, 2020). Evidently, they fill in the labour force gaps as cheap labour which has transformed the economy (Pappusamy, 2014). Recent incidents of the refugee boat turnbacks (ReAct, 2020) and immigration raids of undocumented migrants ("Malaysia 'detains migrants, refugees'…", 2020) despite the government's assurance not to arrest them (Arumugam, 2020) have raised the emphasis on national sovereignty and security. Due to the movement control order (MCO) amid Covid19 pandemic, public health concern has become an excuse to stop saving lives at sea and flex political muscle on immigration control. Things get worse when fake news is spreading like a wildfire on social media ("Fake Whatsapp message…", 2020).
The vilification that Rohingya demanded Malaysian citizenship and equal rights sparked outrage which led to xenophobic and racist discourse (Augustin, 2020). Baseless forwarded social media messages such as refugees get daily allowance, UNHCR card provides legal immunity and refugees get driving license have been denied by UNHCR, refugees and activists. Some anecdotal stories are circulated to demonise ethnic Rohingya particularly regarding their way of life that is deemed unacceptable according to the local 'values'. My observation found that the unsubstantiated claims have made some Malaysians regardless of race and religion to repeat the same narrative of Myanmar junta to justify genocide committed against Rohingya such as calling for their expulsion or even killing them. The rise of hatred towards refugees is evident through several anti-Rohingya petitions which were pulled down due to hate speech (Chung, 2020). It is worrying when two petitions garnered 250,000 signatures that urged Malaysian Government to send stateless Rohingya back to their 'country of origin', as if they had any.
Fighting hatred with love
The refugee and migrant communities in Malaysia have expressed fear of the xenophobic sentiment against them more than fear of corona virus. They 'blame' their own identity for being oppressed, unwanted and ignored[1]. In response to the rising xenophobic sentiment, some individuals and organisations have taken proactive measures. To combat fake news, some Rohingya activists created a group on social media to counter misinformation circulated by netizens[2]. Meanwhile, Rohingya Women Development Network (RWDN) and Elom Empowerment initiated a positive campaign called #ThankYouMalaysia #GratefulRohingya[3]. Rohingya community residing in Malaysia and other parts of the world flood their social media accounts with their personal stories of fleeing genocide and the dream of going back 'home' as well as their gratitude towards Malaysians and Malaysian Government in providing sanctuary and objecting the atrocities committed by Myanmar.
A reflection for Malaysia/ans
Malaysia has been very vocal on the injustices happening in the world especially regarding Rohingya, Palestinians, Bosnians and Syrians. In fact, Malaysians have welcomed refugees and migrants for decades because of our compassion and humanity. While a comprehensive solution needs to be formulated urgently particularly through ASEAN and The Bali Process, turning refugee boats away is inhumane. Malaysia was and is an immigration nation. The tourism tagline "Malaysia Truly Asia" resonates with Malaysia's cosmopolitanism that has attracted diasporas from Asia and beyond to call this land their home. Unfortunately, the rise of right-wing nationalistic sentiment is worrying. We adamantly call Donald Trump and Fraser Anning as perfect instances of racist individuals due to prejudices against migrants. Ironically, it seems that our society is heading in the similar direction. Although Covid19 and racism are invisible, these 'viruses' could cost millions of innocent lives if they keep spreading.
Stay home, spread love and save lives. #HormatNyawa:SaveLives@Sea
References:
Arumugam, T. (2020, March 22).  Don't worry about being detained, just come forward for Covid-19 testing, please, New Straits Times. Retrieved from https://www.nst.com.my/news/nation/2020/03/577004/dont-worry-about-being-detained-just-come-forward-covid-19-testing-please
Augustin, R. (2020, April 25). Fake news sparks hateful remarks against Rohingya refugees, Free Malaysia Today. Retrieved from https://www.freemalaysiatoday.com/category/nation/2020/04/25/fake-news-sparks-hateful-remarks-against-rohingya-refugees/
Chung, N. (2020, April 28). Anti-refugee petitions pulled down after breaching policy on hate speech, Free Malaysia Today. Retrieved from https://www.freemalaysiatoday.com/category/nation/2020/04/28/anti-refugee-petitions-pulled-down-after-breaching-policy-on-hate-speech/
"Fake WhatsApp message creating distrust of refugees, says UNHCR" (2020, March 19). Free Malaysia Today. Retrieved from https://www.freemalaysiatoday.com/category/nation/2020/03/19/fake-whatsapp-message-creating-distrust-of-refugees-says-unhcr/
International Organization for Migration (2020). Malaysia: general information. Retrieved from https://www.iom.int/countries/malaysia
"Malaysia 'detains migrants, refugees' amid coronavirus lockdown", (2020, May 2). Aljazeera. Retrieved from https://www.aljazeera.com/news/2020/05/malaysia-detains-migrants-refugees-coronavirus-lockdown-200501134602431.html
Pappusamy, P. I. D. (2014). Migrant Workers Contribution towards the Malaysian Economic Transformation, Paper presented at the Asian Conference on Globalization and Labor Administration: Cross-Border Labor Mobility, Social Security and Regional Integration in Manila, Philippines. Retrieved from  https://islssl.org/wp-content/uploads/2014/12/Pappusamy_2014_Asian_Conf.pdf
Refugee Action for Change (2020). #HormatNyawa: Save Lives at Sea. Retrieved from https://www.change.org/p/malaysian-government-hormat-nyawa-save-lives-at-sea
——————————————
[1] Based on the author's interaction with some individuals
[2] The author is also part of the group
[3] Based on the author's communication with Rohingya Women Development Network (RWDN) and Elom Empowerment