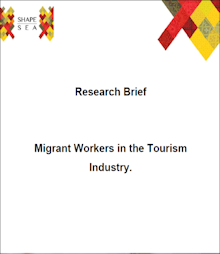 This research examines the impact of migrant workers on the popular beach resort of Koh Phi Phi in Thailand, Migrant workers are found in the tourism sector, especially hotels, tour agencies, and food & beverage establishments. The impact of an increased presence of migrant workers on the local workforce, as well as social, cultural, and economic changes, are of concern to the local community. Migrant workers are blamed for taking away the jobs, suppressing the wages of local workers, and for causing social problems.
Field research was undertaken during 2016 by interviewing key stakeholders including residents on Koh Phi Phi, local workers, migrant workers, and public authorities. The research focusing on the experiences and perception of individuals, primarily through questionnaires and interviews. The interviews of local residents and public authorities covered issues of the perception towards migrant workers, and interviews with migrant workers addressed the situation of migrant workers.
A key finding is that many stakeholders have misperceptions about the impact of migrant workers on their lives, which may create tensions between the foreign and local communities. This research finds that the impact is limited. Migrant workers were not suppressing wages nor taking jobs from the locals. In respect of social ills, the suspicion and fear of the locals towards Burmese workers is uncorroborated by crime statistics or factual evidence. Negative personal experiences of the locals are exaggerated by rumour within a relatively small community. The existence of such unfounded fears is a cause for concern, for it drives a wedge between the local and non-citizen community. Recommendations to address this problem include bridging the gap between the local and migrant workers community on the island, by creating a body such as a business group, local government office, or NGO organize a program which generates awareness and combats rumours.
Researcher: Elizabeth Kolbe
Download/view
Country: Thailand; Myanmar
Topics: Migrant Workers; Discrimination
Output: Research Brief