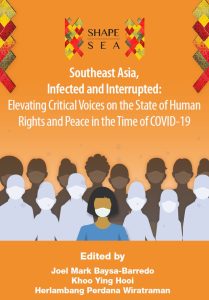 2020 will be remembered as a year of contrasts –  isolation and community, repression and protection, disorder and solidarity.  Individual and collective experiences through the Covid-19 varied and so did the preparedness of the national governments and regional organizations to respond to the crisis. The pandemic only restrengthened our commitment to a culture of human rights and peace. We adapted to ensure our continued solidarity to the protection of rights and pursuit to increase knowledge on human rights and peace in the region.
Launched in March 2020, the goal of the Digital Project – Southeast Asia in Crisis: Opinions on the State of Human Rights and Peace in the Time of Covid-19 was to share voices, reflections and/or analyses of programme stakeholders – academics, researchers and scholars on various themes and realities related to the crisis. Programme stakeholders were asked to submit original and evidence-based opinion pieces on the impact of Covid-19 on human rights and/or peace at the local, national, and regional levels in Southeast Asia.
The overwhelming response from all Southeast Asian countries, especially in the first few months, affirmed the need for such a platform. Op-eds were published on the programme website from March to December 2020. Selected op-eds are now a part of  he book: Southeast Asia, Infected and Interrupted: Elevating Critical Voices on the State of Human Rights and Peace in the time of Covid-19 [eds. Joel Mark Baysa-Barredo (Shape-Sea Programme Director), Khoo Ying Hooi, Herlambang Perdana Wiratraman]
A collaboration between SHAPE-SEA and knowledge frontliners, this book serves as an academic contribution to the growing knowledge on Covid-19, human rights and peace.  It also seeks to provide guidance on ways to promote and protect human rights, as well as, achieve sustainable peace in the new/next/better normal.
We are grateful to Cecilia Jimenez – Damary, UN Special Rapporteur on Human Rights of Internally Displaced Persons (IDPs) for being our Foreword writer. The book is divided into chapters:
Chapter 1: Regional Politics [4 Op-eds]
Chapter 2: Emergency Powers and Measures [14 Op-eds]
Chapter 3: Fundamental Freedoms [6 Op-eds]
Chapter 4: Healthcare and Social Care [10 Op-eds]
Chapter 5: Data, Information and Technology [9 Op-eds]
Chapter 6: Labour and Economic Safety Nets [12 Op-eds]
Chapter 7: Living at the Margins [17 Op-eds]
Download