Teaching Collaboration | Expert Lectures | Lecture Tours
Teaching Collaboration
28 August – 6 September 2017
Vietnam/Cambodia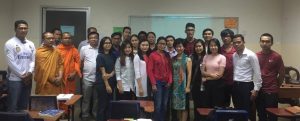 In the first of its kind, the Academic Partnerships and Public Advocacy (APPA) committee supported a teaching collaboration between the Faculty of Law and Public Affairs, Paññāsāstra University of Cambodia (FLPA- PUC) and  School of Law, Vietnam National University (SL-VNU), Hanoi.
Prof. Phallack Kong, Ph.D. from FLPA-PUC and Lect. Huong Ngo, Ph.D. from SL-VNU collaborated on teaching two courses titled – "Human Rights in Southeast Asia" and "Human Rights in ASEAN" at the two universities.
Expert Lectures
30 September – 1 October
Paññāsāstra University of Cambodia
Phnom Penh, Cambodia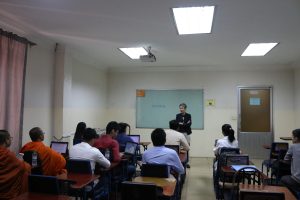 Dr. Sriprapha Petcharamesree, Lecturer, Institute of Human Rights and Peace Studies, delivered two lectures – International Human Rights Protection Mechanisms and Human Rights Protection Mechanisms in ASEAN.
The lectures were attended by the Master of Law 4th year students in the first ever taught human rights elective at the Faculty of Law and Public Affairs at the University, an output of the the teaching collaboration between Dr. Phallack Kong (FLPA- PUC, Cambodia) and Dr. Huong Ngo (SL-VNU, Hanoi)
—————————————————————
Lecture Tours
28 Nov – 2 Dec 2016
Dr. Giao Vu Cong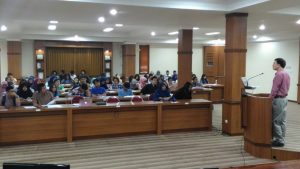 Vice Director – Institute of Public Policy and Law, Vietnam National University, Hanoi
Dr. Giao shared knowledge about corruption, transparency and freedom of expression to students of Law Faculty from University Surabaya, Airlangga University and Muhammadiyah University of Surabaya. Dr. Giao also shared his knowledge about the relation between human rights, corruption and good governance from international and domestic (Vietnam) point of view.
————————
4-­‐9 Dec 2016
Dr. Azmi Sharom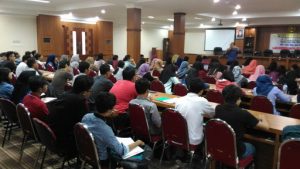 Associate Professor
Faculty of Law, University of Malaya Kuala Lumpur, Malaysia
Dr. Sharom shared his expertise in human rights, rule of law, Malaysian Constitution, and the Freedom of Expression and Press through lectures and a public seminar. He exposed stakeholders, especially students and academics to human rights issues in other Southeast Asian countries in the context of the rule of law.
————————
16- 20 January 2017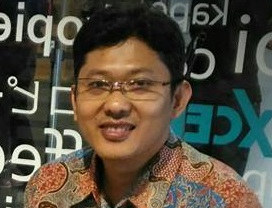 Dr. Herlambang P. Wiratraman
Director at Centre of Human Rights Law Studies (HRLS)
SHAPE-SEA is committed to building a community of lecturers, researchers and scholars with varied experiences committed to the strengthening human rights and peace research and education in Southeast Asia. Our commitment is visible through the various activities undertaken by SHAPE-SEA as a program through research, education, academic partnership and public advocacy and publications.
————————
21 – 27 October 2017
Ms. Lorna. Q. Israel
Senior Lecturer – Miriam College, Quezon City, Philippines
Paññāsāstra University of Cambodia
Ms. Israel delivered two lectures at the Faculty of Law and Public Affairs (FLPA) and Faculty of Social Science and International Relations (FSSIR) and a public seminar under the broad title of "The Rights to have rights".