9-11 June 2017
Mahasarakham, Thailand
SHAPE-SEA has always been committed to tap potentials amongst academics, graduate students and research to accomplish studies related to human rights and/or peace issues in academically developing areas of ASEAN/Southeast Asia such as Lao PDR and the Northern and Northeastern Regions of Thailand.
The Training was co-organised by the Institute of Human Rights and Peace Studies (IHRP), Mahidol  University, and University and College of Politics and Governance, Mahasrakham University.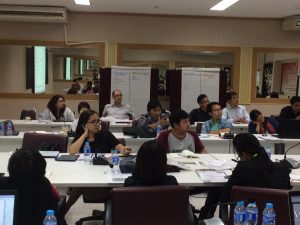 A total of 35 participants, academics, researchers and activists from Lao PDR, Ubon Ratchathani, Udon Thani, Khon Kaen, Chiang Mai, Tak and Chiang Rai, attended the three-day training which included sessions on human rights and peace research methodologies, analytical framework, research project management and group work on research topic identification and planning.
Main facilitators – Dr. Bencharat Sae-Chua and Dr. Vachararutai Boonthinand [IHRP]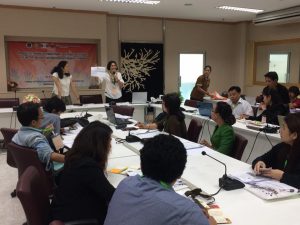 Topics included – concepts and pressing issues on human rights and peace, and analytical frameworks, and delivering human rights and peace centred academic research. Sessions on human rights culture, legal perspectives and peace approaches to research were conducted. Assoc. Prof. Somchai Preechasilpakul, Faculty of Law, Chiang Mai University  and Dr. Duanghathai Buranajaroenkij, IHRP shared their expertise during these sessions.
Panel
Discussion on Human Rights and Peace issues in Mekong Region Dr. Sriprapha Petcharamesree, SHAPE-SEA Programme Chair, Dr. Somchai Phatharathananunth, Dr. Chainarong Sretthachau of Maharasakam University.
Participants also had the chance to share their planned projects to the plenary. They also underwent a session on project management.
Output: The participants from Universities based in the Northern, Northeastern parts of Thailand and Laos will increase their capacity to (1) design a research plan (2) research framework, and (3) Human Rights standards
Outcome: All participants are able to develop basic skills and knowledge on researching about human rights and peace in Thailand and Lao PDR.