3-4 April 2017
Timor Leste
SHAPE-SEA held its first ever activity in one of the world's youngest nations. Timor Leste is considered as an academically emerging country with promising opportunities for its scholars, researchers and students to produce studies on the human rights and/or peace situation in their country.
The Research Training was organised in partnership with the Centre for Peace and Conflict Studies of the Faculty of Social Sciences at the Universidade Nacional Timor Lorosae'.
The two-day training covered various themes on human rights and peace and aspects of research planning. It was offered to scholars, students and activists working on human rights and peace study programs and research in the country.
A total of 35 participants attended the two-day training which included sessions on human rights and peace research methodologies, analytical framework, research project management and group work on research topic identification and planning
The training invited distinguished guest to share their expertise to the participants. Dr. Antero Benedito da Silva of UNTL opened the training by discussing the current human rights and peace situation in Timor Leste.
Dr. Kamarulzaman Askandar conducted lectures on relevant issues on peace and peace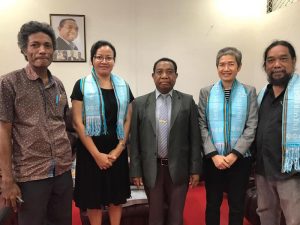 frameworks for research analysis. Dr. Khoon Ying Hooi of Universiti Malaya held sessions on rights-based research methodologies and analytical frameworks. Dr. Sriprapha Petcharamesree, SHAPE-SEA Program Chair shared about the Fundamentals of Human Rights.
Outputs: The participants from Universities based in Timor Leste will increase their capacity to (1) design a research plan (2) research framework, and (3) Human Rights standards
Outcome: All participants are able to develop basic skills and knowledge on researching about human rights and peace in Timor Leste