8 – 11 July 2019
Institute of the Human Rights and Peace Studies (IHRP), Mahidol University, Salaya Campus, Thailand
The 3rd Lecturer Workshop on Teaching Human Rights was co-organized by the Strengthening Human Rights and Peace Research and Education in ASEAN/Southeast Asia (SHAPE-SEA) and the Institute of Human Rights and Peace Studies (IHRP), Mahidol University, Salaya Campus.
Dr. Eakphant Pindavanija, Director of Institute of Human Rights and Peace Studies (IHRP), together with Assoc. Prof. Nopraenue Sajjarax Dhirathiti, Acting Vice President for International Relations and Corporate Communication Mahidol University, and Dr. Sriprapha Petcharamesree, Chair of SHAPE-SEA Programme and Convener of AUN-HRE opened the meeting by welcoming all the participants and sharing the objectives of the meeting.
The four-day workshop was attended by 27 lecturers from 10 Southeast Asia Countries (including member of AUN and SEAHRN).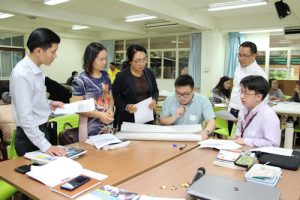 Main objective of the Workshop is to develop lecturer skills and knowledge for teaching human rights at the undergraduate and graduate level.
The workshop divided into three main sessions namely 1) Human Rights Background, 2) Teaching Skills and Participatory Learning Methodologies, and 3) Teaching Human Rights: Class Plan Preparation
Human Rights Background covered core concept of international human rights law and its standard (Human rights fundamentals; Human Rights Treaties: UDHR, ICCPR, and ICESCR; Human rights protection in SEA; Peace and Conflict; Migration and trafficking; Politics and Human Rights; Gender and Sexuality; and Child Rights), as well as discuss on how to structure and teach a class on fundamental issues.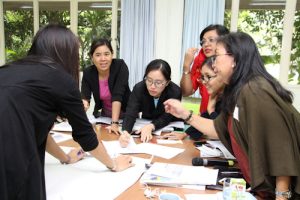 Teaching and Learning Methodologies provided skills in effective lecturing for human rights: class organization, presentation, lecturing, use of power points and other multimedia as well as learning activities/method for a human rights classroom
Teaching Human Rights: Class Plan Preparation covered developing a basic syllabus, course plans, structuring classes-class outline, and example exercises or assessments.
The activity received positive feedback from participants.