31st August – 16th November 2020
The 4th Lecturer Workshop on Teaching Human Rights, organised by SHAPE-SEA, ASEAN University Network-Human Rights Education (AUN-HRE) and Institute of Human Rights and Peace Studies (IHRP) in Mahidol University began on 31st August 2020.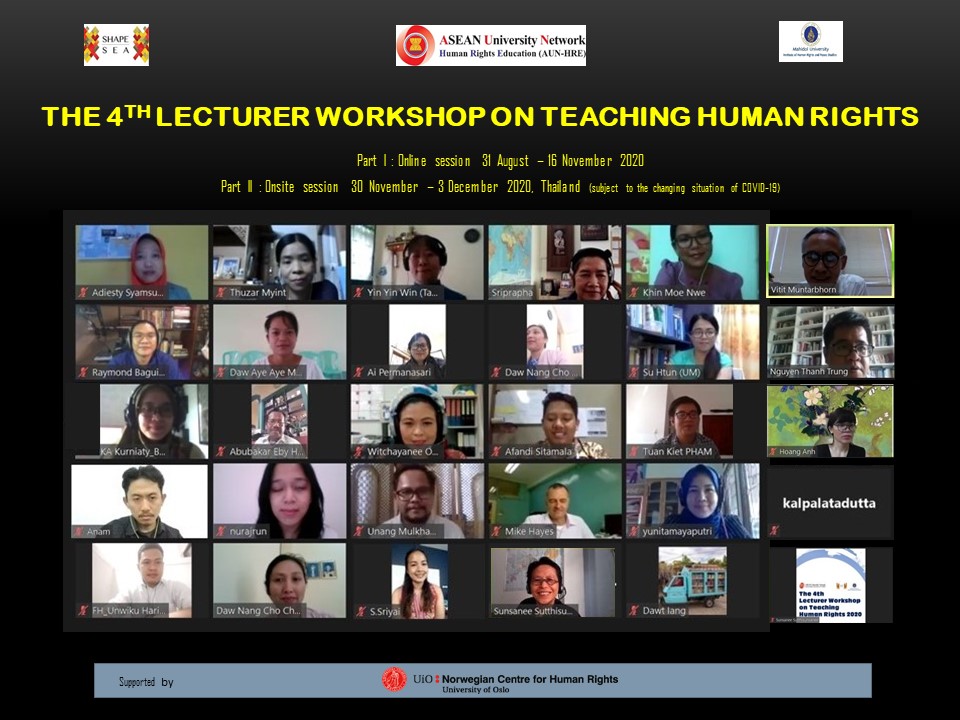 An annual activity, the lecturer workshop on teaching human rights aims to strengthen human rights and peace education in the region. Due to the COVID 19 pandemic, the annual workshop is being conducted online. The substantial part of the program will be done online between 31 August – 16 November 2020.  The possibility of the onsite workshop planned from 30 November to 3 December is contingent on the improvement of the COVID-19 situation.
23 Lecturers from universities in 6 Southeast Asian countries – Indonesia, Malaysia, Myanmar, Philippines, Thailand and Vietnam are participating in this Lecturer Workshop.
The ONLINE learning focuses on substantial human rights issues (human rights backgrounds). Different sessions will give an overview and discuss the content of human rights classes. These include important concepts and how to structure and teach a class on fundamental issues. Discussion of teaching core concepts: what the class should cover, understanding debates, theories and arguments, examples of student exercises, and useful texts and resources.
9 online sessions covered:
Human rights fundamentals
International human rights instruments and mechanisms
Human rights protection in Southeast Asia
Human rights, peace and conflict
Gender and Sexuality
Environment and human rights
International humanitarian law (IHL) and International human rights law (IHRL)
Development and human rights
Academic freedom in the context of human rights teaching and learning: Panel discussions