Deadline for Concept Note Submission:
9 April 2021 (17:00 BKK Time) to ihrp.training@gmail.com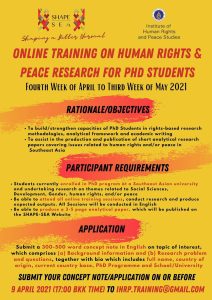 Since 2015, SHAPE-SEA has been offering training for scholars, researchers and students to help them gain knowledge and strengthen their confidence and capacity to perform research on issues relevant to human rights and peace in Southeast Asia. Still, experience from the past five years revealed gaps in terms of skill-sets in conducting human rights and peace research as well as in the production of homegrown/indigenous knowledge in the Southeast Asia, in low income/academically developing countries.
To continue this legacy and in pursuit of shaping a better normal, SHAPE-SEA in partnership with the Institute of Human Rights and Peace Studies, Mahidol University will be conducting a training for PHD Students based in Southeast Asia to help them develop/strengthen skills in data collection, analysis, academic writing. This training also seeks to encourage a community of emerging scholars to conduct rights based research on a local, national or regional topic of their choice.
Over a period of four weeks, selected participants will not only be attending online lectures, but will also get the chance to be mentored by resource persons. At the end of the training, they will also have the chance to share their research outputs and analysis, as well as, have their short papers published on the SHAPE-SEA website.
✊🏾Participant Requirements✊🏾
🌱Students currently enrolled in PhD program at a Southeast Asian university and undertaking research on themes related to Social Sciences, Development, Gender, human rights, and/or peace
🌱Be able to attend all online training sessions, conduct research and produce expected outputs. All Sessions will be conducted in English
🌱Be able to produce a 3-5 page analytical paper, which will be published on the SHAPE-SEA Website
✊🏾Application Process✊🏾
Submit a 300-500 word concept note in English on topic of interest, which comprises (a) Background information and (b) Research problem and questions, together with bio which includes full name, country of origin, current country base, PhD Programme and School/University
Click on the image below to view the training programme.